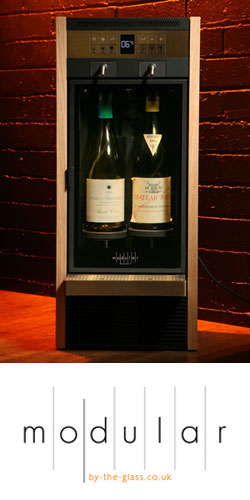 We are delighted to introduce the latest evolution in our award-winning range of wine preservation and dispensing systems.
The Modular has been designed to fulfil our clients' requests for a system that offers the same outstanding preservation and dispensing flexibility as our Standard model but in a smaller and lighter package.
The result is a unique, two bottle, single climate zone unit that can be used standalone or daisy chained together to create larger integrated systems requiring just a single connection to an electricity and preserving gas supply (up to 6 units / 12 bottles).
Linking two systems together for example creates a very affordable, four bottle, dual climate zone system typically used for dispensing two red and two white wines. Three Modulars would of course have six bottle positions but three climate zones allowing, for example, three different styles of red wine to be served at three different optimum temperatures.
As with all of our systems, The Modular offers accurate portion control with a choice of three user definable pour sizes.
The updated design, together with a choice of finish on the end panels, means The Modular looks equally at home in a trade, corporate or domestic environment.
Features
So with all that in mind, what does the Modular actually do? Each one has:
Electronic climate control, allowing accurate control of serving temperature between 7 to 20 degrees celsius
Inert gas preservation system (argon) allowing open bottles to be kept in optimum condition for up to 14 days
Accurate portion control with 3 user-definable pour sizes
Anti-theft doors
Redesigned gas tube layout for enhanced hygiene and easier maintenance
Food grade silicone stoppers to allow a firm seal onto most sizes of wine bottle
Internal LED lights, highlighting the wine bottles and creating an eye catching centrepiece
How many fine wines would you like to offer
by the glass

? Two, four, eight or dozens?


The Modular

makes it all possible!
Benefits
Compact – to be placed into areas with limited space available
Expandable – you can connect up to 100 Modulars from the same gas bottle without any detrimental effects
Beautiful design – when form meets function, you have a Modular
Discreet – you can incorporate a Modular into a wall or a cabinet to suit your environment
Flexible – multiple chained Modulars can all have different temperatures, allowing the dispensing of different types of wine
Hygiene – easily cleaned and maintained to make sure your wine is always served at optimal quality
Investible – Modulars don't break your bank account, and can quickly return your investment
Suitability – ideal for trade, corporate or a domestic environment
Technical Data
The Modular has the following general technical specifications:
Dimensions including adjustable feet (but excluding side panels) W250 x H690 x D230mm
Dimensions (optional) side panels (L x H x D) W18 x H680 x D230 mm1
Steel door with thermopane glass
Weight 22.1kg
Number of bottle positions: 2
The system can be positioned as a stand-alone unit, attached to a wall or can be completely built into a wall, kitchen or cabinet
Up to 6 units can be connected together requiring a single connection to electricity and gas supplies2
Thermoelectric cooling with ventilation outlet at the front
Electronic temperature control
3 x energy-saving dimmable LED lights "warm white"
Voltage 230V auto switching
One year guarantee on all components
1 A newly designed side panel will soon be introduced that will be slightly deeper and will measure W18 x H680 x D350mm. The additional depth will enable the regulator and gas to be hidden behind the Modular unit.
2 For greater than 3 or more modular units linked together, for cost and convenience reasons it is recommended that a commercial gas cylinder is used. Please contact us for further details.
Buying Online
If you would like to buy your Modular online you will receive the following:
Number of Modular units ordered;
Your selected side panels;
A gas regulator;
An argon gas cylinder that lasts for approximately 60 bottles of wine (additional bottles can be ordered online);
The Modular User Manual (available for download below);
A step-by-step user guide and access to an instruction videos on how to set up your system (Optional on-site installation and training in use is available);
12-months warranty with (at our shipping cost) a return to base repair service (Optional on-site support is available);
Downloads
Click on either of the brochures below to be taken to our Downloads page.