We were invited to display our By The Glass Wine Dispenser and Preserving System at the Annual Boutinot Tasting, held this year in Manchester's Bridgewater Hall. Paul Boutinot, Danny Spencer, and Nigel Wilkinson MS hosted the event, showcasing the new range of wines for this year, as well as the Boutinot favourites.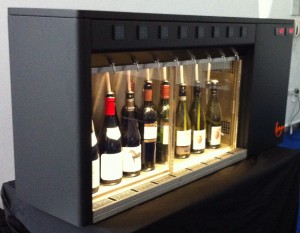 The main tasting was held in one of the circles, giving amazing views of Manchester (yes they do exist!) from the ultra modern Beetham Tower, to the grandeur of The Midland Hotel.
For the lucky assembled Sommeliers, wine shop owners, restaurateurs and wine press, were gathered a selection of Boutinot's finest, everything from their ever-popular house wines, to their great range of fine wines.
The By The Glass wine dispenser was set up with a number of the tasting wines in allowing visitors to get hands with the system and learn more about how we help a variety of businesses increase wine sales, reduce wastage, and offer our customers the best maintenance and service support on the market.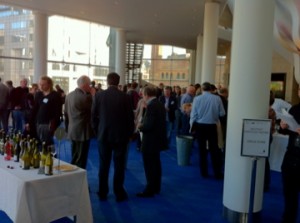 Highlights of the tasting were Boutinot's Cote Du Rhone Villages, and their Cotes Du Rhone Blanc, as well as Ant Moore an Dignite, all being extremely popular and tasting well.
We also attended their follow up event, in their head office in Gatley, where 60 of the most popular wines were available for tasting. The event ran all day, with Ed and Scott showing a number of customers who could not make the Bridgewater Hall event, the new range and the top performers from the main tasting.
The By The Glass team would like to thank all at Boutinot, and in particular Jason MaCauley, for his help in organising the tasting, and our attendance.
For further information on the wines of Boutinot, call 0161 908 1300 Or visit www.boutinot.com