By The Glass® were lucky enough to attend 'The Wine Show' held at Olympia, London, last week. With hundreds of wonderful wines to taste we were in our element!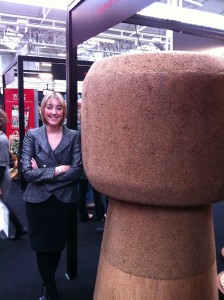 We enjoyed watching Jose Pizarro create delicious tapas dishes to match certain wines and we even managed to sneak a taste of a couple of the delicious dishes. Wines of Chile had successfully matched their wines with some delicious Benares curries also. Wine experts were on hand to answer questions, while serving and discussing the wide variety of wines, which we found to be a great addition to the day.
We thoroughly enjoyed strolling through The Wine Market to discover amazing unique boutique wines from artisan wine producers and retailers. It was so interesting (and of course great fun) exploring their impressive stock of out-of-the-ordinary-wines. So good in fact that I stocked up on these fantastic wines for Christmas presents!
It was great to be amongst so many people with a clear passion for wine and that made for a great atmosphere.
Chris Roberts from By The Glass® observed "It's great to talk to homegrown wine producers, who have vineyards just down the road!". We sampled many English wines, including some sparkling wines, which were an equal to many Champagnes.
Other highlights included Celebrity Wine Experts Oz Clarke, Tim Atkin, Rob Buckhaven and Susy Atkins offering advice on how to pick out the perfect wine in the Drinks Tasting Theatre.
We then took a walk into The Master Chef Show, in association with The Wine Show and sampled some fantastic dishes, including food from Roast, a By The Glass® installation site in London and some chocolate that simply melted in your mouth.
We met some great contacts at The Wine Show and it was the perfect place to learn about new and established wines.
I would recommend a visit next year to any wine lover (even if it's just for the free tasters!)