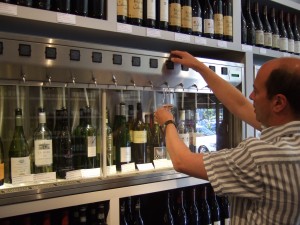 Picture this; it's Sunday afternoon, and you have just put a joint of beef in the oven for tonight's roast dinner. You want a bottle of wine to accompany the meal but are fed up with the usual choices you buy. On your way to the supermarket you walk past The Wine Reserve a shop that enables you to sample 48 different types of wine at your leisure. The Wine Reserve have 3 By The Glass® wine preservation and dispensing systems installed in their shop.
This great new concept of placing wine preservation and dispensing systems in off-trade sites is growing in popularity, with a number of sites now having By The Glass® systems installed around the UK. With the correct equipment to keep open wine in good condition it has enabled shops such as, The Wine Reserve, Vagabond Wines and Tivoli Wines to offer such a great service to its customers.
Advances in preservation technology is enabling the off-trade to make the most of opportunities By The Glass® presents. The ability to try before you buy is an attractive concept to customers and it is more likely you will buy a wine you haven't done previously after tasting it.
You can walk out of the shop with a fantastic bottle of wine and be confident that the wine you have bought will be the perfect choice of wine to go with your roast dinner, and also a great dessert wine to finish the meal off!